Dermal Fillers & Cosmetic Injectables in Philadelphia Main Line
ALSO SERVING KING OF PRUSSIA, RADNOR & MALVERN PA
Signs of aging can creep up on you over time or may happen seemingly overnight, but you don't have to go under the knife to fight facial lines, wrinkles and volume loss. Dermal fillers are designed to address specific facial areas to restore a youthful contour that provides immediate results with no downtime necessary!
Dr. David Horvath is a board-certified plastic surgeon and aesthetics expert with over 25 years of experience enhancing the natural beauty of his patients. Reach out to Horvath Aesthetics to set up your appointment and take the first step toward creating an artistic contour of youthful vitality and glow today.
How Can Dermal Fillers Help Me?
Dermal fillers are a minimally invasive way to rejuvenate your face. Dr. Horvath is an aesthetics expert and offers a variety of injectables to customize your results to your cosmetic goals. He offers Radiesse, Sculptra, Juvéderm, Restylane and other fillers that can improve the following signs of aging and more:
Shallow, sunken contours
Tear troughs
Recessed scars, including acne scarring and old injuries
Dark circles under the eyes
Under-eye bags
Forehead lines
Cheek depressions
Aging hands
Frown lines between the eyebrows
Crow's feet
Nasolabial folds that extend from the nose to the mouth
Marionette lines from the mouth corners to your chin
Chin wrinkling
Thin lips
Lip lines
Candidates for dermal fillers should be in good physical health and understand the benefits and risks of the injectable product. You should be committed to good skin health for long-lasting results. Ongoing treatments are needed to maintain your rejuvenated appearance.
How Does the Treatment Work?
Aging Process
As we age, we naturally lose volume in all of the components of our face. The subcutaneous fat and the bone begin to reabsorb, which deflates the face while the skin also begins to thin. Together this leads to loss of volume in the face and creates a sunken or gaunt appearance in your cheeks and other areas. Like a deflated balloon, the skin begins to sag and wrinkle as the volume decreases. The aging process slows down the production of essential proteins for healthy-looking skin called collagen and elastin. Thinning skin causes more and more lines to appear on the face, as can long-term sun exposure and habits such as smoking. Fillers can combat these cosmetic concerns by providing volume, reducing wrinkles and even push your body to produce more elastin and collagen for lasting improvements.
Addressing Lines and Wrinkles
How your dermal filler diminishes lines and wrinkles depends on the product.
Juvéderm and Restylane are hyaluronic acid fillers. Hyaluronic acid is also found naturally in your body. Fifty percent of all your body's HA is found in the skin, but is also found in most other tissues, particularly around your eyes and in your joints. The compound declines with age like collagen and is responsible for maintaining hydration in the skin by attracting water, keeping your skin plump and youthful.
Hyaluronic fillers add volume and provide a supple appearance, treating skin depressions, scars, crow's feet, smile lines, nasolabial folds and under-eye hollows. Hyaluronic acid fillers such as Restylane and Juvéderm are used in the soft tissues of the face to improve deflated sunken-in cheeks and to provide augmentation if desired such as lip augmentation. The under-eye area known as the tear trough is a common concern, but it is a delicate region that requires a skilled and experienced injector for correction. Always choose a board-certified plastic surgeon or an aesthetics expert with the proper training to perform your dermal filler treatment. Your risk of complications goes up in inexperienced hands, and you may need dermal filler revision.
Radiesse contains calcium hydroxyapatite (CaHA) that is found naturally in your bones. CaHA works both as a filler and in a process known as Biostimulation. In other words, it can stimulate new elastin and collagen production in the tissues to combat further damage from sun exposure and aging while also
filling the hollows and wrinkles. The FDA-approved injectable creates a scaffold within your tissues for the new collagen and elastin to build on. As a filler, Radiesse works well for smile lines, marionette lines and frown lines. It is a perfect filler to help replace the bone resorption of aging to improve the fullness and contour of the cheekbones and the jawline. Chin wrinkles and skin and fat drooping around the jawline can be treated with Radiesse.
Restoring Volume and Facial Contour
Sculptra is made with poly-L-lactic acid (PLLA), a non-toxic and biodegradable synthetic substance that has been used as a suture material for decades. PLLA is FDA-approved and works as a collagen replacement to support a strong tissue and cell framework. After the PLLA is injected, it stimulates new collagen production for as long as three months. This process is called BIOSTIMULATION. Both PLLA and Radiesse can be used to stimulate new collagen (neocollagenesis) to form and can be used to augment the contour of the face and are even used for volume in the body such as the buttock in the non-surgical Brazilian buttock lift / buttock augmentation. This dermal filler works well on the lower face and adds volume to provide that youthful vitality that is lost to aging. The PLLA in Sculptra focuses on the deep tissues and changes in your skin that are causing the lines and wrinkles, and the compound restores the underlying skin structure to revitalize collagen production.
Fast, Easy Improvements
Radiesse, Juvéderm and Restylane offer immediate results. You should notice visible improvements right after your dermal filler appointment, though you may have some swelling and redness. Radiesse results can give you a natural-looking, younger appearance for a year or longer. Juvéderm and Restylane outcomes may last about the same from one to two years, depending on the type of Juvéderm or Restylane used and the location of the cosmetic concern. Your body naturally breaks down the clear hyaluronic acid in Juvéderm and Restylane. As the hyaluronic acid reabsorbs your wrinkles, the skin's contour will return to where it was prior to injection. Although some patients worry that it may cause wrinkles to worsen, that is not the case. In fact, it may even have some lasting protective stimulation to help improve your aging skin. Maintenance treatments every 6-12 months are needed to keep your youthful appearance.
Sculptra works differently than the other dermal fillers. While it doesn't provide immediate results, it pushes your body to gradually increase collagen through a process known as biostimulation for a semi-permanent outcome that can last up to two years. This stimulation results in new collagen known as neocollagenesis. Several treatments are often needed to reach desired results, and each session re-stimulates collagen growth. Full results are typically seen four to six weeks after your treatment. Some patients prefer Sculptra because it offers gradual improvement that doesn't make you appear as though you've had work done.
No Downtime or Recovery Needed
Dermal filler treatments require zero recovery time, making them an ideal alternative to face procedures. Not only do you get immediate results, but you can resume your everyday life right after your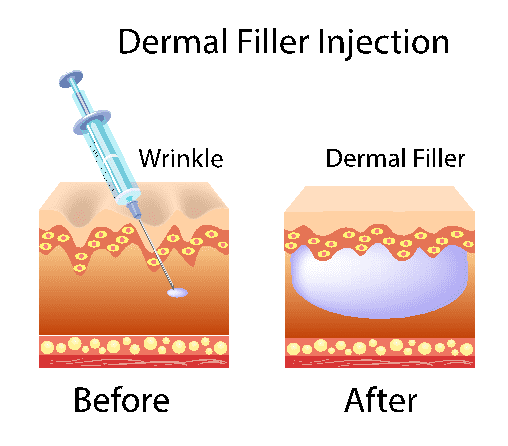 appointment. You may have some redness, swelling, tenderness or sensations around the injection site, and occasional bruising, but these are typically mild and disappear within one to two days. A dermal filler treatment generally takes 30 minutes, and injectables contain a numbing agent to ease your discomfort. Most patients find the process fast and easy with astounding results.
Dermal fillers should only be injected by a skilled medical professional such as our Dr. Horvath, an aesthetics expert and board-certified plastic surgeon. Choosing someone without the training and experience needed for dermal filler treatment increases your risk of complications such as lumps, infection and even wounds.
Quick Treatments, Youthful Results
Dr. Horvath is a highly respected plastic surgeon known for his talent and skill for achieving natural-looking results that preserve and enhance your beautiful features. Horvath Aesthetics offers easy solutions to elevate your appearance with non-surgical treatments that deliver excellent results, similar to facial surgery.
Dermal Fillers FAQs
How can I ensure that my dermal filler results look natural?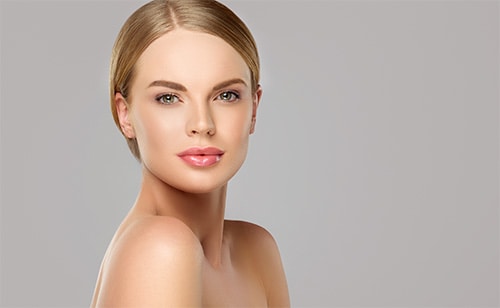 Moderation is key to achieving natural-looking results. Too many filler injections can result in an artificial facial appearance. It often makes sense to start with a smaller amount of filler to see if you like the results and increase the amount with subsequent injections if you would like more volume.
The other component of natural-looking results is choosing an expert injector like Dr. Horvath. With over 25 years of experience, he understands precisely where to inject filler to best achieve an attractive, youthful face.
Are there certain lines that dermal fillers cannot treat?
Dermal fillers are suitable for the wrinkles that form due to skin sagging and volume loss. Most of these wrinkles form on the lower two-thirds of your face. Certain other lines are primarily the result of facial muscle movements leaving indentations on thinning skin. For horizontal forehead lines, frown lines (vertical lines between the brows) and crow's feet, Dr. Horvath recommends Botox, an injectable neuromodulator that temporarily immobilizes muscles that cause these lines to form so that the creases have an opportunity to fade from visibility from your skin.
How can dermal filler improve my lips?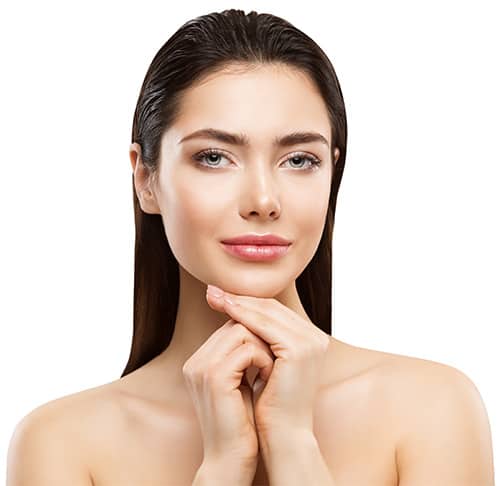 In the same way that hyaluronic acid can plump skin that has experienced volume loss, HA fillers can add fullness to the lips. The same filler can help to enhance the cupid's bow (upper double curvature) of the lips while reducing lip lines. While lip enhancement is often associated with young women trying to exaggerate the size of their lips, it is an equally popular treatment among women who have found that their lips have become thinner and curled inward with age. Many women simply wish to restore their previous lip size rather than have unnaturally oversized lips.
What is lidocaine?
Many types of dermal fillers now contain lidocaine, a local anesthetic that minimizes discomfort when the gel enters the skin. Lidocaine has also been found to reduce bruising so that patients can resume their normal activities with even more ease, without visible signs of the injection.
Who is not a good candidate for dermal fillers?
Most people who want to rejuvenate their face with additional volume are good candidates for this easy treatment. Because fillers generally use acids naturally found in the human body, allergies to fillers are extremely rare. Although smokers can use dermal fillers, they should be aware that the results do not tend to last as long because of smoking's effects on the skin. Pregnant and nursing women are encouraged to postpone dermal filler treatment, although this recommendation is mainly based on insufficient research rather than any known risks for babies.
With so many types of dermal fillers available, how do I know which one is right for me?
Admittedly, it can be overwhelming to learn the minute differences between filler options: Juvéderm offers at least half a dozen different types of filler alone. That is why it makes sense to seek care from a professional who specializes in injections. During a consultation, Dr. Horvath can discuss your specific aesthetic goals and help make a treatment recommendation based on your wishes and budget. Usually, the treatment area and the extent of visible aging dictate which filler is most appropriate.
Schedule your consultation at Horvath Aesthetics to see if dermal fillers are right for you by calling (215) 884-2880.