Neck Thread Lift Philadelphia
ALSO SERVING KING OF PRUSSIA, RADNOR & MALVERN PA
Neck Rejuvenation for Loose Skin and Wrinkles Without Surgery
Skin aging is inevitable, but sun exposure, smoking, air pollution, and genetics can speed up the process and cause premature wrinkles and loose skin. The neck region tends to experience textural changes before the face, namely sagging skin, wrinkles, and fat accumulation that makes you appear older. Neck thread lift is a lunchtime procedure that uses absorbable barbed or smooth sutures to tighten the neck and lower face. Horvath Aesthetics offers neck thread lift and other types of thread lift for non-surgical face and neck rejuvenation.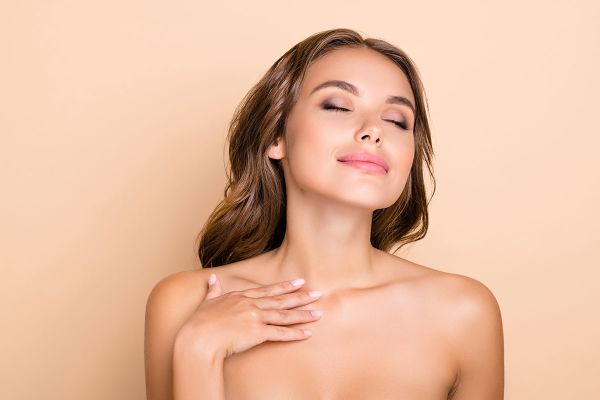 How Can Neck Thread Lift Help Me?
Also called the "lunchtime lift," thread lift is minimally invasive and works by stimulating the body's healing response with threads lined with sutures to create new collagen for firmer, stronger, and healthier skin. The procedure is best for people with mild to moderate skin laxity in the neck and premature jowling along the jawline. Thread lift can improve loose neck skin, necklace lines (or Venus rings), and other age-related concerns.
Neck thread lift is ideal for patients in their late 30s to early 50s who want neck rejuvenation without invasive plastic surgery. Our board-certified plastic surgeon and aesthetics expert can determine if neck thread lift is right for you during your consultation. He will evaluate your neck and skin quality and discuss your cosmetic goals. Thread lift can be combined with BOTOX to reduce vertical banding or Kybella injections to eliminate a double chin.
How Does Neck Thread Lift Work?
Thread lift works by gently pulling the skin tighter to reduce sagging skin. The procedure provides ongoing and progressive neck rejuvenation by stimulating the body's healing response with surges of new collagen to the area. Collagen is a protein in the skin that maintains the skin's strength and provides the supple texture and volume associated with youth. Unfortunately, your body starts creating less and less collagen beginning in your 20s. Thread lift increases collagen production and supports growth factors that improve skin texture. Dr. Horvath may recommend combining PRP treatment with neck thread lift for better absorption and biochemical activity.
Neck thread lift is a quick procedure performed with local anesthesia. Dr. Horvath numbs the area and inserts a small needle or cannula containing the threads. He expertly places the suture lines under the skin. Your body senses the threads as a foreign object and begins working to heal the skin tissues in the neck. That healing response remains activated until the sutures dissolve.
Dr. David Horvath may use polydioxanone (PDO) threads or poly-L-lactic acid (PLLA) threads with bidirectional cones for neck thread lifts. High-quality molded threads provide the best results. While some plastic surgeons prefer cut threads for an easier procedure, the nicks in the suture weaken the material and make it more difficult to hold the tissues for long-term results. Dr. Horvath believes pressed MINT ™PDO threads with a barbed design are the most durable and provide superior outcomes. MINT PDO threads have 360-degree barbs that look like thorns on a rose stem. Horvath Aesthetics is one of the only providers in the Philadelphia area to offer MINT™ barbed threads.
Sometimes smooth threads are more appropriate for the jaw and neck region to improve volume, especially in conjunction with PRP treatments. Smooth threads provide the framework for new collagen to fill in the area. Younger thread lift patients may need smooth threads and Kybella injections for submental fat and repeat procedures to reach their desired results for more volume. Maintenance sessions with smooth threads along the jawline and under the chin can preserve a chiseled jawline. Older patients with moderate to severe loose neck skin need barbed threads for the best lifting effect.
The technique and layout of the sutures will impact results and are determined based on your needs. The horizontal method may offer optimal re-draping of the neck skin. The crosshatch approach can improve skin texture and address a double chin. Dr. Horvath prefers the crosshatch pattern with smooth threads for younger patients. The hammock technique with MINT Easy threads across the cervical mental angle where the neck meets the chin and jaw addresses "turkey wattle" or severe skin laxity for more neck definition. The linear method can add volume around necklace lines.
(Follow @HorvathAesthetics on Instagram to see videos of thread lift procedures.)
Minimal Recovery Needed After Neck Thread Lift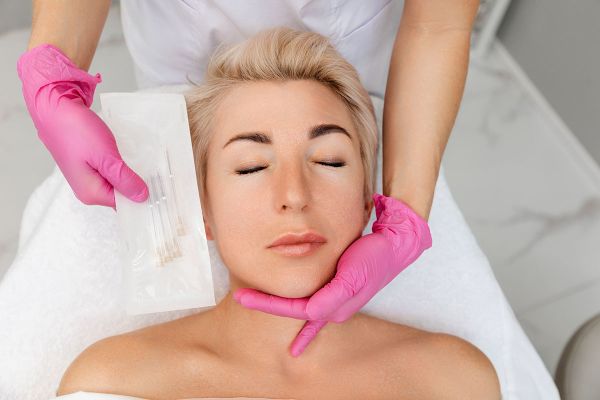 Thread lift requires little to no downtime, unlike neck lift surgery. You may have some irritation, bruising, swelling, or discomfort that can be managed with cold compresses and over-the-counter medications. Patients should avoid direct sun exposure until their neck heals. Wash the area gently and be careful not to rub your neck.
Most patients feel presentable within three to five days of their thread lift, but the tissues won't heal completely for a few more weeks. Avoid strenuous exercise, and don't smoke for at least a week.
Smoother, Tighter Neck Skin with Neck Thread Lift
You will notice some neck rejuvenation immediately, with the full results several weeks later. Thread lift results improve as the body continues sending new collagen to the sutured tissues. Neck rejuvenation with thread lift may last one to three years, and the procedure can be repeated to maintain or enhance your results.
Schedule Your Neck Thread Lift at Horvath Aesthetics
If you struggle with loose neck skin, book a consultation with Dr. Horvath to discuss your non-surgical neck rejuvenation options. Contact Horvath Aesthetics in King of Prussia, Pennsylvania, by calling (215) 884-2880.