Non-Surgical Butt Lift Philadelphia
ALSO SERVING KING OF PRUSSIA, RADNOR & MALVERN PA
Your buttocks are a difficult area to change through diet and exercise. Some people naturally have a flatter backside or experience sagging skin as they get older that affects the projection of their buttocks. You don't have to go through invasive plastic surgery with implants or fat transfer to achieve a better buttock shape.
Dr. David Horvath is a board-certified plastic surgeon and aesthetics expert who can help you enhance the size and shape of your buttocks without surgery or downtime. Schedule your consultation with Horvath Aesthetics and begin your journey to a shapelier figure today!
How Can Non-Surgical Butt Lift Help Me?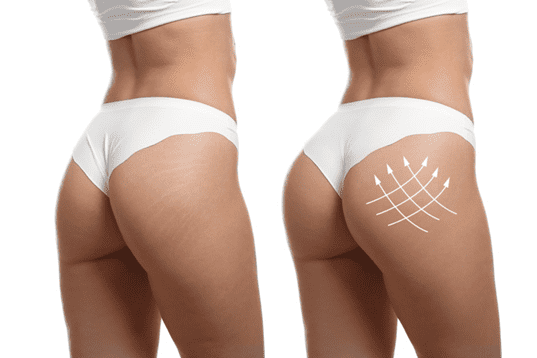 Age, pregnancy and weight gain and loss can all affect the appearance of your buttocks. Loose skin, sagging fat deposits and stretch marks can make it difficult to tone the area and reach your cosmetic goals without help. Dr. Horvath offers collagen biostimulation with Sculptra and hyper-dilute Radiesse, thread lifts and Emsculpt NEO for non-surgical butt lifts. These products, techniques and technologies give you a firmer buttock and a curvier body shape. Candidates for non-surgical butt lifts should be in good overall health with realistic expectations for their results.
How Does the Treatment Work?
Using Your Body's Natural Collagen with Radiesse and Sculptra
Our aesthetics expert uses these biodegradable fillers for non-surgical buttock augmentation. Sculptra is an injectable made with poly-L-lactic acid (PLLA), a non-toxic material used in the medical industry for decades for sutures. The PLLA works in the deep skin layers to restore skin strength and structure by working with your body to revitalize collagen production. Collagen is an essential protein responsible for your skin's shape and integrity that decreases starting in your twenties. Sculptra works to improve the skin's framework by stimulating the production of collagen.
Radiesse is a dermal filler that stimulates collagen with calcium hydroxyapatite, a compound naturally found in your bones. Radiesse is hyper-diluted in buttock augmentation and works as a biostimulatory agent (like Sculptra) to improve skin firmness and quality. Radiesse may be used after Sculptra to provide instant results, while Sculptra works to improve buttock shape in the deep tissues. Only a board-certified plastic surgeon should perform non-surgical butt lift with Sculptra and hyper-diluted Radiesse. This minimally invasive cosmetic treatment requires a deep understanding of the gluteal anatomy to avoid complications from injecting too deeply into the buttocks, such as sciatic nerve injury. Buttock enhancement with these injectables can give you safe and effective results in the skilled and experienced hands of Dr. Horvath.
A Visible Lift with Thread Lift
Butt thread lift is a great alternative to surgical butt lift. Sutures are strategically placed along the buttocks in the subcutaneous tissue to provide an elevated, perkier contour. A thread lift can give you a more rounded buttock shape and make your legs look longer and your figure more proportionate. The sutures, or threads, are typically made of PDO (polydioxanone), a complex sugar material that has been used in cardiovascular and orthopedic surgeries for many years. The PDO threads provide a visible lift to the buttocks and push your body to create collagen in the areas where sutures are placed, providing a supportive mesh for your body to fill in with collagen over time. A butt thread lift can improve tone and elevate the tissues but won't increase buttock size.
Building Muscle with Emsculpt NEO
Emsculpt NEO is a device that delivers high-intensity, focused electromagnetic energy (HIFEM) to tone the buttocks and build muscle. It's the world's first and only option for a butt lift that does not involve surgery or injections. A 30-minute treatment session stimulates muscle contractions equal to around 20,000 squats. Emsculpt NEO is FDA-cleared for use in five body areas and can reduce fat in the buttocks by up to 19 percent and provide an increase in muscle mass of up to 16 percent. Two paddles are used on the buttocks to deliver HIFEM energy and muscle contractions in the supra-maximal muscles to burn fat and build muscle at once.
Quick and Easy
Non-surgical butt lifts with injectables, thread lifts or Emsculpt NEO are quick and come with little to no discomfort. Sculptra and hyper-diluted Radiesse for buttock augmentation can take 30 to 60 minutes, and a thread lift takes around an hour or less. Emsculpt NEO treatments are 30 minutes apiece, but at least four sessions are recommended and performed two to three days apart. Repeat or maintenance treatments are needed with non-surgical butt lifts to build upon and keep your perkier buttocks.
No Downtime Necessary
None of Dr. Horvath's non-surgical butt lift options require downtime, so you can resume your everyday life right after your appointment. With Sculptra or hyper-Radiesse, you may experience some mild sensations such as tingling or numbness in the injection sites along with minimal swelling and bruising in the treated area. These side effects typically go away within a few days. You may experience temporary redness and swelling after a thread lift, and most patients report feeling like they just completed an intense workout after Emsculpt NEO.
Non-Surgical Treatments, Incredible Results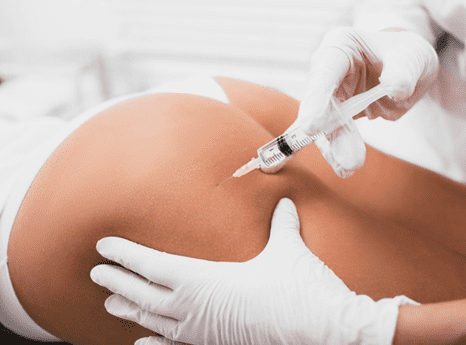 Non-surgical butt lifts provide visible results without any of the risks of surgery, such as anesthesia complications. In some cases, results show up gradually as your body produces more collagen in the area. Sculptra works "behind the scenes," with final results appearing around four to six weeks after your treatment session, and a series of three monthly treatments are often recommended. You can enjoy a better body shape for up to two years with Sculptra. Butt thread lift results also last up to two years, depending on the patient.
Radiesse provides noticeable improvement right away while also pushing your body to create more collagen and elastin for youthful, taut skin, with results that may last a year or longer. Emsculpt NEO for muscle tone and fat reduction in the buttocks may take two to four weeks for visible results as your body works to shed the dead fat cells and build muscle fibers.
Schedule your consultation at Horvath Aesthetics to see if a non-surgical butt lift is right for you by calling (215) 884-2880.