Thread Lift Philadelphia
ALSO SERVING KING OF PRUSSIA, RADNOR & MALVERN PA
Sagging skin can make you look older than you are and give off the impression that you're tired, sad or angry. A thread lift can offer similar results to eyelid surgery, brow lift and facelift without the downtime and anesthesia risks. These non-surgical alternatives use strategically placed sutures to provide a visible lift to the skin's tissues, restoring a younger appearance.
Dr. David Horvath is a board-certified plastic surgeon with over 25 years of experience helping patients achieve their ideal look through surgical or non-surgical means. Begin your journey to an elevated complexion today by contacting Horvath Aesthetics.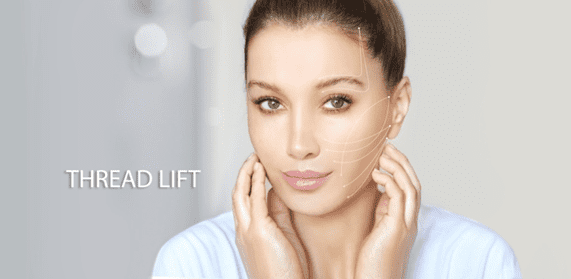 How Can Thread Lifts Help Me?
A thread lift subtly lifts the skin instead of surgically removing the loose tissue like a facelift or brow lift. Thread lifts use stitches made with specific material to pull the skin slightly for a tighter appearance. Once the sutures are in place, they offer secondary benefits by pushing your body to "heal" the area by creating more collagen.
Collagen is a protein found in abundance in your tissues when you are young, but you start to produce less of the vital compound starting as early as your 20s. The "fountain of youth" protein keeps your skin supple, voluminous and strong. A thread lift harnesses the growth factors of collagen. The body directs a surge of collagen to the area where the sutures are located for an infusion that improves the structural integrity of your skin and reduces laxity by restoring volume for ongoing rejuvenation.
Dr. Horvath offers thread lifts for several areas that have lost volume and have loose skin, including:
Neck
Eyebrows
Eye area (Foxy eye thread lift)
Facial contours (Silhouette lift)
Jawline
Nose
Thread lifts are often called a "lunchtime lift" because of the quick procedure and zero downtime required afterward. Candidates should have mild to moderate wrinkles with loose skin and be in good overall health. These non-surgical options can address jowling, sagging eyebrows, prematurely loose neck skin and more.
Thread lifts can be combined with hyaluronic acid fillers such as Juvéderm and Restylane and PRP treatments.
How Does the Treatment Work?
Foxy Eye Thread Lift
Many women want a cat-eyed look or wish to reduce a sad-looking eye shape. The fox eye thread lift is customized to address upper eyelid sagging and alter the eye shape by lifting the corners for a wide-eyed effect that gives both a lift and the foxy eye, made famous by celebrities like Kendall Jenner.
Dissolvable threads are used in the fox eye thread lift and inserted at the outer eye corners under the skin to pull the tissues gently and elongate the eyelid. Small cones anchor the thread beneath the skin to build a scaffold for new collagen to grow. The stitches dissolve over time, and a local anesthetic is used for your comfort. The fox eye thread lift offers instant results with a procedure that typically takes 30 minutes.
This thread lift can improve uneven eye shape and hooded eyelids.
Restore Volume and Define Facial Contours
Thread lifts are often used to address jowling, which happens with age when the fat deposits in the face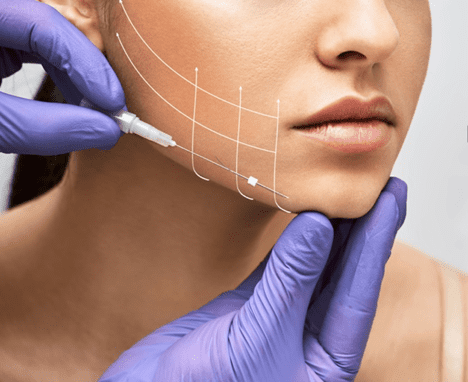 lose volume and sink toward the lower face, altering your facial shape and muddling the jawline. They can also elevate the tissues to restore volume in the cheeks or improve neck bands, sagging neck skin or drooping eyebrows. These areas may be enhanced by a set of threads on both sides for a lifting effect with better jawline definition and to tighten the neck.
Thread lifts for the neck may use absorbable, barbed sutures for optimal results and collagen stimulation for firmer skin.
MINT PDO Thread Lifts
Different kinds of sutures are used for thread lifts, depending on the treated area and type of cosmetic concern. MINT (minimally invasive non-surgical thread) PDO (polydioxanone) is created from a complex sugar and has been successfully and safely used in cardiovascular and orthopedic surgeries for many years.
PDO is an absorbable material that has been thoroughly researched for predictable results with limited side effects. Some PDO threads are barbed to lift the fat and skin tissues in certain directions and keep them there for several months, so the body has time to create a new collagen structure in the area.
Barbed PDO threads work well for the neck, eyebrows, jaw and chin area, nasolabial folds, marionette lines and jowls. Smooth PDO threads are finer and work as a mesh to support and add volume to sunken or hollow areas. PDO threads typically dissolve around 100 days after they're placed, offering an elevated facial profile to the treated area that lasts about one year.
Silhouette Lift
The Silhouette thread lift uses a different medical-grade suture material for long-term results. The soft threads are made with poly-L-lactic acid and poly lactic-co-glycolic acid to restore voluminous facial contours without invasive surgery. The lines reposition fat deposits and elevate the skin in the face and neck using suspension sutures and cone technology to add definition where appropriate for immediate results.
Quick and Easy Non-Surgical Lifts
Thread lifts offer many benefits with visible results right away and none of the concerns associated with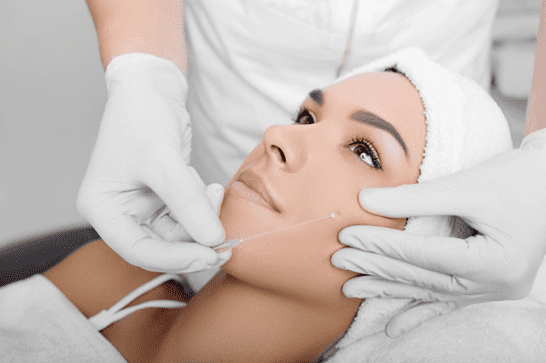 surgical lift procedures. The outpatient procedure typically takes less than an hour with Dr. Horvath. You may experience some minor discomfort, swelling and bruising after your thread lift, but these side effects go away quickly. The long-term results of thread lifts come from the collagen matrix created in the treated area because the sutures restimulate production.
Minimal Downtime with Thread Lifts
Unlike surgical procedures that require days away from work and special post-op care, thread lifts allow you to return to your everyday life and work the next day. The thread lift is an outpatient procedure, and a local anesthetic is used for your comfort. You can drive yourself home to relax or run a few errands after your treatment.
Incredible Results, None of the Hassle
Thread lifts offer many of the same benefits as surgical procedures without the hassle and risks. Dr. Horvath is an aesthetics expert and board-certified plastic surgeon who can help you enhance your natural beauty and return a spark of your youth with non-surgical cosmetic treatments.
Schedule your consultation at Horvath Aesthetics to see if a thread lift is right for you by calling (215) 884-2880.