Non-Surgical Neck Lift Philadelphia
ALSO SERVING KING OF PRUSSIA, RADNOR & MALVERN PA
Your neck may show signs of aging well before lines and wrinkles etch into your facial tissues and is often forgotten during skincare regimens. Fat deposits in the neck and sagging skin can age your decolletage area, and horizontal bands can show up due to weakened muscles and thinning skin. Dr. David Horvath can help you restore a smooth, taut neckline with various non-surgical cosmetic treatments.
You can enjoy a youthful neck contour without the downtime or significant risks associated with neck liposuction and a surgical neck lift. Schedule your consultation at Horvath Aesthetics to achieve the perfect refresh for your neck.
How Can Non-Surgical Neck Lift Help Me?
The neck muscle called the platysma, combined with thinning skin, can give rise to visible neck bands, which are found at the edges of the vertical platysma. Sagging skin and fat can muddle the appearance of your jawline, under the chin and upper neck. Minimally invasive options can effectively address these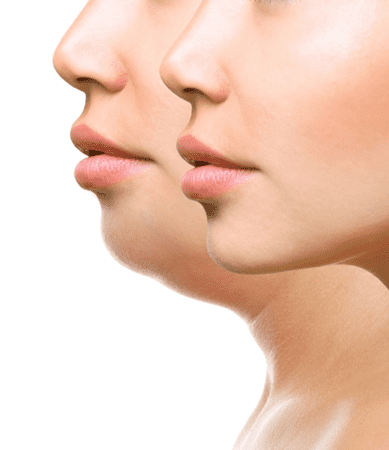 common concerns. They include:
Sculptra and Radiesse: Synthetic dermal fillers that stimulate the deep tissues to produce collagen. This is a process called Biostimulation.
Kybella: A series of injections that target and dissolve fat under the chin.
Nefertiti Lift: A cosmetic procedure that uses Botox to address neck, jaw and chin concerns.
Thread lift: This treatment uses sutures to lift and tighten loose skin without performing surgery.
Alma Laser Skin Resurfacing: The neck's tissues are heated to trigger the skin's natural healing process to strengthen and reinforce the skin.
Dr. Horvath will discuss your options for a non-surgical neck lift during your consultation. You should be in good physical health, a non-smoker and understand what the procedure can achieve along with the associated risks. Make sure you tell Dr. Horvath of any medications or supplements you're taking, as certain medicines and herbal remedies can affect healing.
How Does the Treatment Work?
Your non-surgical neck lift treatment is customized to your needs, and the process depends on the type of procedure that will help you accomplish your desired goals.
Improving Skin Quality
Sculptra is an injectable made with poly-L-lactic acid (PLLA). It provides deep bio-stimulation to jumpstart collagen production. Collagen is often hailed as the "fountain of youth" protein because it's found in abundance through your early 20s. Unfortunately, you create less and less of this natural compound as you age, causing the supportive framework in your cells to degrade. Sculptra is a unique dermal filler as it does not deliver immediate results but focuses on the cause of your skin issues.
PLLA has been used for over 40 years as a suture material because it's an excellent biodegradable and non-toxic substance that stimulates healing. Sculptra is FDA-approved for collagen replacement and can revitalize the neck and decolletage area with a series of two to three treatments spaced several weeks apart.
Sculptra works with the deep skin tissues to rejuvenate the underlying structures and restore a youthful volume to the neck. The semi-permanent dermal filler gives you gradual results that don't make it look like you've had work done.
Radiesse is another dermal filler that uses deep bio-stimulation to restore skin quality in the neck. It's often used for loose neck skin and neck wrinkles and is made with calcium hydroxyapatite (CaHA). CaHA is found in human bones, and Radiesse recreates the compound biosynthetically to reduce allergy risks and avoid using animal tissues.
CaHA works to contour the neck and stimulate collagen and elastin. Elastin is another essential protein for youth because it gives your skin the ability to bounce back after movements and facial expressions. CaHA particles create scaffolding for new collagen and elastin to grow, with anti-aging effects and long-term improvement in skin quality.
Skin resurfacing with the Alma laser also offers skin remodeling and neck rejuvenation. There's no anesthetic needed for the laser treatment, and it works for all skin types. The laser device delivers heat energy to points in the skin's tissues to form micro-traumas in different layers of the skin. These tiny injuries trigger your skin's healing abilities to produce new collagen and elastin fibers. Alma laser can improve skin laxity and texture for long-term results.
Eliminating Excess Fat
Kybella is an injectable used for reducing a "double chin." This area is notoriously difficult to address through diet and exercise and worsens with age as skin and fat droop lower in the face and jawline. Deoxycholic acid is a naturally occurring substance used in Kybella to target fat cells and destroy the cell membranes. A grid of injections is used to treat the area under your chin and liquefy that fat. The dead fat cells are absorbed by your body, effectively eliminating submental fat.
A Graceful, Long Neck
The Nefertiti lift is named after the renowned Egyptian Queen Nefertiti, envied for her long, thin and graceful neck. The cosmetic procedure focuses on the platysma muscle bands that run from your collar bone up to the bottom of your chin. Nefertiti lift uses botulinum toxin products such as Botox to improve loose skin, neckbands and the jaw and lower face area to provide a Nefertiti-like appearance.
Botulinum toxin works by immobilizing muscle movement to smoothen wrinkles caused by muscle use and thinning skin. The Nefertiti lift can address multiple concerns, including:
Chin dimples
Lines in the bottom area of the face
Sagging skin in the lower face
Uneven face, jaw or neck appearance
Neck lines or neck banding
Undefined jawline
Dr. Horvath can help you determine if the Nefertiti lift with Botox is right for your needs.
Quick and Straightforward Treatment
A non-surgical neck lift with injectables or laser treatment requires a minimal time commitment. Sculptra, Radiesse, Botox and Kybella injectables often take less than 30 minutes to complete, and many patients choose to have their non-surgical neck lift over their lunch hour to limit their time away. Skin resurfacing with Alma laser may take one to two hours.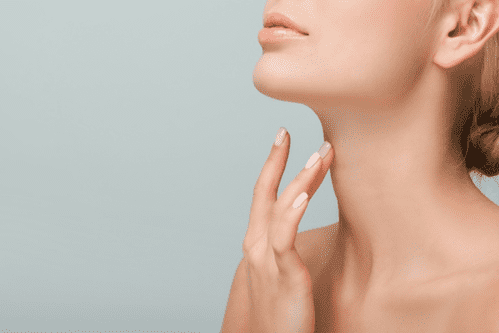 Dr. Horvath will discuss your desired results and evaluate your face and neck to determine the best way to reach your cosmetic goals during your consultation. He is a board-certified plastic surgeon and aesthetics expert, making him the ideal physician to perform your non-surgical neck lift. The neck area requires special care, and only a highly trained medical professional should perform your treatments.
Your results will settle in gradually as your body responds to the stimulation and produces more of the proteins required for a youthful neck. Repeat treatments may be necessary to maintain or improve your non-surgical neck lift.
Little to No Downtime Needed
Non-surgical neck lifts can give you age-defying results without the need for incisions, stitches and extensive recoveries like neck liposuction or a surgical neck lift. After your appointment with Horvath Aesthetics, you can resume your everyday activities with little to no limitations. You may experience redness, swelling and irritation with injectables and pink or red skin after laser skin resurfacing with the Alma laser.
Incredible Results with Advanced Treatments
Advancements in cosmetic treatments allow our board-certified plastic surgeon to accomplish much of the results he achieved with reconstructive and plastic surgery through non-surgical means. You can reduce signs of aging on your neck for an elegant appearance without worrying about significant side effects or healing complications. Non-surgical neck lift results can reverse years of damage to the skin's tissues without making you look like you've had work done.
Schedule your consultation at Horvath Aesthetics to see if a non-surgical neck lift is right for you by calling (215) 884-2880.