Plasma Laser Skin Resurfacing Philadelphia
ALSO SERVING KING OF PRUSSIA, RADNOR & MALVERN PA
Laser skin resurfacing has helped many people improve skin tone and texture, but most of the lasers used for these treatments require extensive downtime and special care while the skin heals. At Horvath Aesthetics, our board-certified plastic surgeon offers laser resurfacing with the New Opus Plasma device that improves your skin concerns with less downtime and more safety than previous technologies.
The Opus system is a proprietary technology by Alma Lasers that pairs unipolar radiofrequency with
microplasma energy to treat a variety of skin texture and quality concerns. The Opus Plasma is the first of its kind to address mild to severe skin concerns that previously required more invasive, ablative treatments.
Schedule your appointment at Horvath Aesthetics to take the first step toward better skin quality today!
How Can Laser Resurfacing Help Me?
The Opus Plasma Laser is an excellent way to improve a wide range of skin problems, from fine lines and wrinkles to loose skin on the face and neck. These treatments may be the ideal option for people in their 40s to 60s. The energy-based device works for all skin types, unlike other laser treatments that cause hyperpigmentation concerns with dark skin tones. Anyone interested in improving their skin's appearance on the face and neck may qualify for laser resurfacing with Opus Plasma.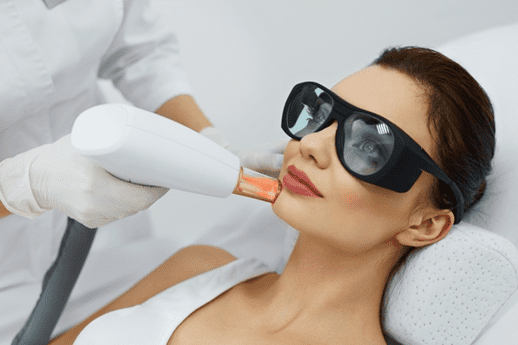 Laser resurfacing with Opus Plasma can treat these issues and more:
Mild to severe fine lines and wrinkles
Loose skin on the face and neck
Crow's feet
Age spots
Dark spots
Dull skin
Uneven skin texture
Scarring from acne and previous surgery
Stretch marks
Enlarged pores
Neckbands
Many lasers work well for the face, but few of them work on the neck. The Opus device can improve horizontal neck bands and loose neck skin and may be used closer to the eyes than other lasers, making it a better option for fine lines in the eye region. Opus Plasma can address skin irregularities in the face, eyes, lips, neck, decolletage, abdomen, arms and legs.
How Does the Treatment Work?
Micro-traumas Stimulate Wound Healing
Opus Plasma laser resurfacing creates microscopic channels in the skin using pins in the handheld device charged with radiofrequency (RF) energy. These micro-traumas stimulate your body's wound healing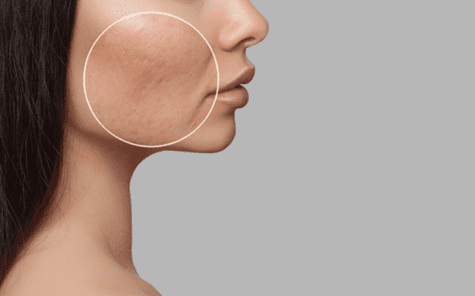 response to improve the skin tone and texture of the treated area. The RF energy heats the deeper tissues of your skin to promote more collagen in the area.
Collagen is considered the "fountain of youth" protein because it strengthens the skin's structure for firmer, more youthful skin.
Fractionated Plasma Energy Smooths Skin
Alma's Opus Plasma laser is a micro-ablative, fractionated laser technology, meaning it focuses on small sections of the skin for controlled tissue damage that reduces your healing time. Non-fractionated lasers treat the entire area, and ablative laser technologies remove the tissue and are a more aggressive treatment. Opus Plasma offers gentler laser skin resurfacing with similar results.
The fractional plasma energy in the device works like a sandblaster to smoothen the skin and reduce signs of aging. The effects of the plasma energy are isolated on the skin's surface, providing a faster recovery than other lasers that target deep tissues.
Fast and Simple Treatments
Your laser resurfacing treatment with Opus Plasma may take just 15 minutes to treat the entire face, while other lasers take up to an hour. That being said, you should plan on an hour session as Dr. David Horvath will apply a topical anesthetic, which may take up to 30 minutes to numb the treated area thoroughly. You may need to avoid certain medications or supplements a week before your Opus Plasma treatment, such as retinoids. You should also avoid wearing jewelry, as the metals in jewelry can react with the plasma energy.
Opus Plasma treatments are highly customizable and can be calibrated to offer results similar to a light chemical peel or more intensive treatment, depending on the skin concern you wish to address with laser resurfacing. You may need several sessions at four- to six-week intervals for the best results.
Little to No Downtime After Laser Treatment
Unlike previous laser technologies, Opus Plasma does not cause dramatic swelling because it focuses on the skin's surface and relies on RF energy to stimulate healing in the deeper tissues. You will likely experience some mild swelling and skin irritation like a sunburn for a few days, with some flaking skin, but the treated area should appear normal within a week of your treatment.
Dr. Horvath is an aesthetics expert, and he will give you special instructions for caring for your skin after laser resurfacing. You may need to avoid certain makeup products, lotions and cleansers while your skin is sensitive. Stay away from sun and UV exposure while your skin is healing.
Amazing Results with Opus Plasma
You may notice some improvement in skin tone and texture right after your treatment. However, the skin-tightening and collagen remodeling benefits of Opus Plasma will take time as your deeper tissues improve skin structure and quality. Your final results will show up around three months after your last laser resurfacing treatment, with maintenance treatments recommended once or twice a year.
Schedule your consultation with Dr. Horvath to see if laser resurfacing with Opus Plasma is right for you by calling (215) 884-2880.