Non-Surgical Eyelid Rejuvenation in Philadelphia
Also serving King of Prussia, Radnor & Malvern PA
Drooping eyelids and wrinkled skin around your eyes give you a tired, aged appearance, and it can affect your vision if the sagging tissue drapes over your eyes. Surgical blepharoplasty (eyelid surgery) is not the only way to rejuvenate your eyelids. Advancements in cosmetic treatments and non-surgical techniques allow Dr. David Horvath to deliver excellent results without picking up a scalpel.
Dr. Horvath is a board-certified plastic surgeon and aesthetics expert with more than 25 years of experience in the industry. Start your journey to a wide-eyed, youthful gaze by scheduling your
appointment with Horvath Aesthetics today!
How Can Non-Surgical Eyelid Rejuvenation Help Me?
Your skin loses elasticity as you get older, and the already-thin skin around your eyes may be the first area to show it. Non-surgical eyelid rejuvenation can address many of the issues caused by displaced fat in the upper and lower eyelids, weakened eyelid muscles and aging tissues, including: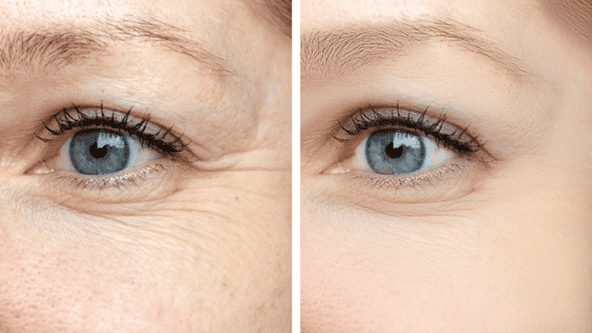 Tear trough indentations found between the lower eyelid and upper cheek
Upper and lower eyelid puffiness
Dark circles caused by hollowing
Ptosis (eyelid drooping) caused by muscle weakness that makes opening the eye challenging
Drooping eyebrows
Crow's feet on the outer edges of the eyes that resemble a claw
Fine lines
Candidates for non-surgical eyelid rejuvenation need to be in good overall health and non-smokers. You should have realistic expectations for the process and results and tell Dr. Horvath about any medical conditions, medications or supplements to ensure a safe and effective outcome.
How Does the Treatment Work?
Non-surgical eyelid rejuvenation can be accomplished using various treatments, such as Botox, dermal fillers, a thread lift and PRP treatment. Dr. Horvath will customize your procedure to deliver results that are unique to you and your facial structure.
Addressing Crow's Feet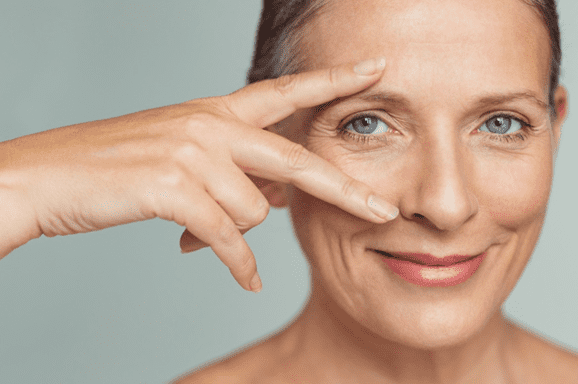 Botox is a neuromodulator injectable that focuses on the underlying muscles in the eyelids that can cause mild to moderate crow's feet. It contains botulinum toxin type A, which temporarily freezes the targeted muscle to prevent or reverse eyelid wrinkles. It can also be used to give a Botox browlift by weakening the muscles around the eye that pull the brow down. The result is a higher brow with more bright, open eyes. This delicate procedure requires skilled and experienced hands, so make sure you choose a board-certified plastic surgeon to perform your Botox treatment to reduce the risk of complications.
Addressing Weakened Muscles
Often as we age, the eye opening begins to narrow as the upper eyelid droops and causes the eye to appear sleepy. Opnique is an FDA approved cosmetic eyedrop offered exclusively by physicians experienced in eye rejuvenation. The drops contain medication to stimulate the fine muscles of the inner eyelid and opens your eyes 1-2 mm to give you a bright happy and youthful appearance that is attractive. Drops are used daily and give an almost immediate improvement in this eye-opening lift.
Restoring Youthful Volume
Dr. Horvath uses Belotero and Restylane dermal fillers to improve hollowing in the under-eye area because of their flexible and smooth gel material. Belotero contains hyaluronic acid, a compound found in your body that binds to moisture to hydrate the skin. The dermal filler is great for thin and delicate areas such as the eyes because it's injected into the upper skin layer.
Elevating the Heavy Brow and Upper Eyelid Tissue.
A thread lift is another way to achieve non-surgical eyelid rejuvenation. The technique involves the use of temporary sutures to lift the skin subtly for a younger look. Thread lift provokes your body's natural healing response, creating a surge of collagen in the area to improve the skin's condition. While the sutures suspend the tissues, your body provides ongoing rejuvenation to the site through growth factors. Dr. Horvath artfully places the sutures for an elevated, tauter eyelid and an elevated brow. This procedure can also be done to create the Cat Eye or Fox Eye appearance.
Harnessing Your Blood's Healing Properties
Using a sample of your blood, Dr. Horvath can isolate the platelet-rich plasma (PRP), a straw-colored substance that contains extraordinary healing factors. PRP treatments can be used for medical and cosmetic purposes, including hair loss and eyelid rejuvenation. Often used in "vampire" procedures, PRP treatments in the lower eyelids can deliver visible improvements without risk since it harnesses your own body's fountain of youth. These growth factors are typically injected into the lower lid and to improve the dark circles and skin health.
Loose Skin and Wrinkles
As we age, the lower eyelid skin thins and weakens. Fine wrinkles develop with excess skin and crow's feet. The Opus skin resurfacing laser will create tiny open channels that stimulate the body to produce new collagen to heal. The treatment is fast. It is typically performed over three sessions, and only requires numbing cream for pain relief. The treatment improves fine wrinkles and tightens excess skin.
No Recovery or Downtime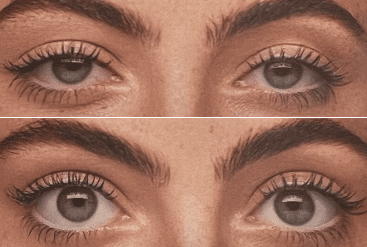 Unlike blepharoplasty, non-surgical eyelid rejuvenation requires no downtime. You can often go back to your normal activities right after your appointment, though there may be some minor swelling, redness or bruising is gone before the next workday.
A thread lift does require some recovery and special care, such as gentle cleansing and topical ointments for the first week after your procedure.
Amazing Treatments with a Renowned Plastic Surgeon
Dr. Horvath spent more than 25 years providing excellent reconstructive and plastic surgery results to his patients. He watched the research closely and found that his conservative approach in the surgical suite could also be accomplished through non-surgical cosmetic treatments, thanks to advancements in technology and products. At Horvath Aesthetics, Dr. Horvath devotes the same passion he has for research to patient safety and satisfaction.
Schedule your consultation with our board-certified plastic surgeon to see if non-surgical eyelid rejuvenation is right for you by calling (215) 884-2880.