Erectile Dysfunction Treatment for Philadelphia
Improving Erectile Dysfunction
Erectile dysfunction affects many men, and they're often reluctant to speak with anyone about the issue due to social stigma. However, according to Johns Hopkins, it's much more common than you may realize, with more than 18 million men in the United States experiencing difficulty achieving and maintaining an erection.
You don't need to be embarrassed or frustrated with male sexual dysfunction any longer. At Horvath Aesthetics, Dr. David Horvath offers erectile dysfunction treatment with the Alma Duo laser.
Schedule your appointment with our board-certified plastic surgeon to learn more about erectile enhancement today!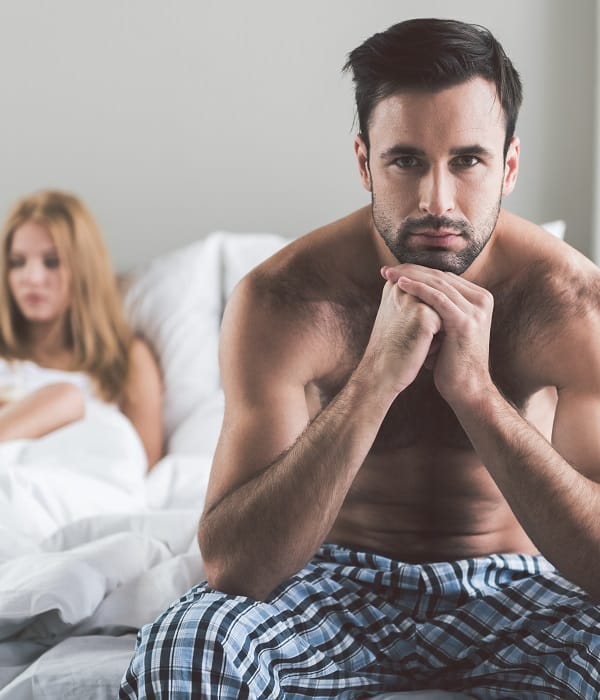 How Can Erectile Enhancement Help Me?
Some men begin to notice that their erections are less firm, rapid or spontaneous as they age. Men who have challenges getting a firm enough erection for sexual intercourse or struggle to keep an erection for the duration of sex have Erectile Dysfunction (ED). While most men experience this issue a few times in their life, ED is an ongoing problem. ED may be caused by clogged or restricted blood flow to the penile chambers called corpora cavernosa, responsible for facilitating erections.
There are a variety of medications and treatments available for ED, but many men wish to avoid the side effects of pharmacological options and invasive procedures. The Alma Duo laser is the only technology that uses low-intensity shock therapy to promote new blood vessel generation and break up plaque present in blood vessels of the penis for stronger, firmer and long-lasting erections. ED treatment with Alma Duo may improve treatment response with certain medications.
Men may prefer laser treatment for ED because there are no pills, needles or surgeries required to improve the condition, and results may last two years.
How Does the Treatment Work?
Pulse Technology with LI-ESWT
Alma Duo uses low-intensity extracorporeal shock wave therapy (Li-ESWT). This gold-standard technology can give you back spontaneity in your sex life by stimulating better blood flow and restoring your natural performance. This non-invasive therapy harnesses acoustic waves to pass through tissue and direct energy into specific areas and organs, including the penis. Li-ESWT has successfully improved other medical concerns, such as ischemic heart disease, burn injuries and bone fractures, and it works by delivering pulses at specific intervals.
Quick, short pulses create a positive pressure at peak intervals called a "shock," followed by longer pulses of negative pressure for a shock wave effect measured nearly 1,000 times greater than the energy used with ultrasound treatment devices. The peak pressure puts stress on the chambers of the penis that instigate your body's natural wound healing to increase blood vessels in the area and improve blood flow. Alma Duo may activate stem cells dormant in the area, causing new cell growth.
The patented Focused electrohydraulic applicator in Alma Duo goes deep into the tissues with fewer pulses and less energy than other "radial" methods to reach the penile crus and shaft. These parts of your anatomy contain 50 percent of the cavernous bodies that make up the two chambers of the penis for an effective treatment that restores natural function.
Fast, Simple Treatments
Erectile enhancement with Alma Duo laser treatment is a fast, in-office procedure that takes 15 minutes. Each treatment session improves male sexual function with 300 pulses along several locations on the penile shaft and crus. Bi-weekly treatments for three weeks are recommended, with each session taking up to 30 minutes, and there's no downtime or anesthetic required.
No Recovery Period
Erectile enhancement with the Alma Duo laser may be preferable to other treatments because there is no downtime required after your session, and it doesn't carry the same risks as medications for ED. You may experience some skin bruising or discomfort during sexual intercourse after treatment. However, a double-blind, randomized control clinical trial found that Li-ESWT improved erectile function significantly without adverse side effects.
Effective Results for Erectile Enhancement
A research study that used a placebo control over five weeks found that 57 percent of men with ED experienced benefits with Li-ESWT technology. A six-month follow-up study reported improved function and better penile rehabilitation without medication. Your results could last as long as two years with harder and more sustainable erections.
Researchers believe that Alma Duo and Li-ESWT technology offers the highest chance of a cure for ED and that this shock wave therapy may reduce the need for invasive treatments and improve medication results.
Schedule your consultation with Dr. Horvath to see if erectile enhancement with Alma Duo is right for you by calling (215) 884-2880.